Bring in your torn window screen or patio door for a 24 hour turn-around repair service.
Is the glass in your window broken? We repair older windows and re-putty them so they look as good as new. We repair Paslode framing guns, trim nailers, and are a certified warranty depot.
Increase and prolong the life of your yard work equipment.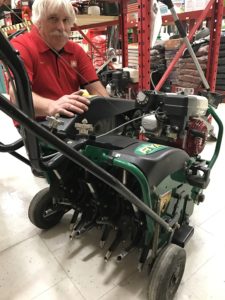 Your chainsaw probably hasn't been overhauled in a while. Our service department will give it a full-service check including sharpening and oiling. When was the last time you had a good look at your lawnmower? Our staff will clean it up for you, change the oil, sharpen the blade, and help you get the job done without a break down.
Our repair work is guaranteed to your complete satisfaction.