We're pleased to introduce our retail partner – Kingan Home Hardware, located on Simcoe Street, in the heart of Peterborough's downtown district. With a rich tradition dating back over 170 years, Kingan Home Hardware serves the needs of Peterborough businesses, residents and landlords with friendly, knowledgeable service and a full assortment of hardware supplies.
The store dates back to 1851, when it opened in its current location at 167 Simcoe Street, across from the Peterborough city bus terminal. It's an easy location to access and even includes 15 minutes free parking at the rear of the store, making it super convenient. Inside, you'll find the brands and services that have made Home Hardware, the go-to hardware store in the Peterborough region.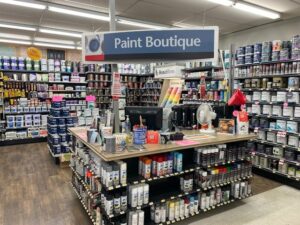 Whether you're a landlord or tenant looking to refresh your apartment with some new paint, the staff at Kingan Home Hardware are happy to assist with custom paint matching across a variety of finishes. Downtown Peterborough store owners can count on the store for cleaning supplies and a full assortment of hardware including screws, nails, hooks, and much, much more! And local residents love the ability to walk to a well-stocked hardware store!
The store also features home accessories, appliances and hand tools – perfect for those who want the convenience of shopping in downtown Peterborough and the support of very knowledgeable and friendly staff. Many customers comment that Kingan Home Hardware is 'an experience not to be missed' – the charm of an 'old-time Hardware Store' backed by the product selection and quality that's made Home Hardware famous. 
If you haven't visited Kingan Home Hardware, you're overdue. Stop in and say Hello to our experienced and knowledgeable staff. We're located at 167 Simcoe Street and open Monday – Friday, 8 am to 5:30 pm, Saturday 8 am-5:00 pm and Sundays from 11 am – 3 pm.