It's no secret House Pricing in Peterborough has climbed steadily over the past few years. Protecting your home or cottage from water penetration is key to ensuring your investment and that starts with a dependable, watertight roof. If your roof and shingles are beginning to show wear, you'll want to replace them BEFORE they leak and cause potentially expensive issues down the road. From the development of mould and rot to drywall and finishing damage, it's absolutely critical to ensure your roof isn't leaking and is able to withstand the elements before they fail. 
Why Should You Replace Your Roof?
As with so many building materials, there are options for roofing including shingles or steel. New roofing can add style, performance and longevity to your home. Let's discuss shingles first. At Merrett Home Hardware Building Centre, we've partnered with the leader in roofing technology – IKO Shingles to provide our customers in Peterborough and throughout the Kawartha's with the best products at the best prices.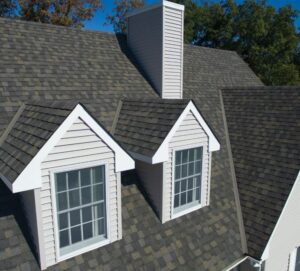 IKO Shingles are fibreglass-based shingles. They offer 4 different lines of shingles to meet the needs of contractors and homeowners alike. From Designer Shingles that offer the ultimate in protection while mimicking slate or cedar shakes, Performance Shingles that provide maximum protection from wind, water and severe weather and Architectural Shingles that feature a wide assortment of colours and blends We've got the perfect shingle product for your roofing needs. 
An important component of today's advanced roofing systems is the application of Ice and Water Protection along the edges and valleys. A roof wrap product, a waterproof membrane that's applied to the complete roof prior to installing the shingles. This shield offers an extra layer of protection and ensures your new roofing job is done right. IKO has a complete package that includes economical starter shingles ready to install and Hip & Ridge shingles as well. IKO, as a fully integrated roofing company, manufactures these products for ease of installation and ensure a weather-tight solution for your home or cottage.
Steel roofing is a durable, long-lasting solution that may suit your roofing project. While it's typically about 3 times the price of shingles, its performance and longevity make it an excellent option in many cases. We feature steel roofing from both VicWest and Havelock Metals. Our friendly, knowledgeable staff are happy to discuss the features and benefits to help you make the right roofing decision. 
NOW is the perfect time to begin your roofing project before the severe weather ahead. 
At Merrett Home Hardware Building Centre, our friendly staff are available to answer all your roofing questions, help you select the right products and ensure your success. We've even got the delivery capabilities to 'boom' your shingles onto your roof if applicable.
Come visit us at our newly expanded Showroom and Building Centre at 1460 Lansdowne St., West and see why builders and Peterborough residents alike shop our locally owned and operated store.