Updating your existing deck or adding a new deck to your home or cottage is a great way to add functional living space while increasing resale value. In Peterborough, we're seeing a strong trend towards replacing basic 'builder' grade decks with ones that include upgraded features. At Merrett Home Hardware Building Centre, our staff are experts when it comes to helping you design and plan for the construction of the perfect deck. We've prepared these five design trends to help get you started.
Design – A great deck starts with a well-thought-out design.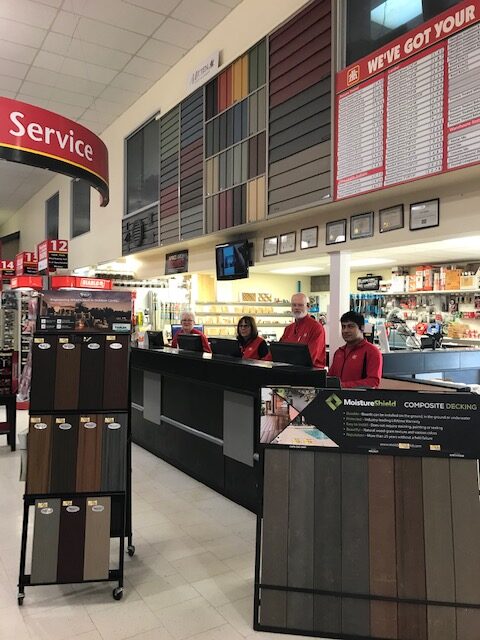 While some homeowners are content to replace an existing deck 'as is,' building a new deck is an excellent opportunity to consider your options. A great place to start is from the inside of your home – how will a new deck be accessed? Will it impact your view? Can you extend your indoor space outside? Consider how incorporating multiple levels can create different 'zones' or use areas. You'll also need to consider options for stairs and access from your yard. And sometimes, the space under your deck is an excellent option for creating a sheltered patio!
At Merrett Home Building Centre, our experts can help you tackle these questions and more. Visit our design centre to create a free 3D deck design and get accurate estimates on building materials. Our team has worked with municipalities across Peterborough and the Kawarthas and are familiar with their building codes. If you are working with a contractor, we can even provide BCIN Stamped plans. This helps reduce the stress of getting approved designs and permits.
Our team will work with you to design a deck that fits your lifestyle and budget as well as meets all municipal building codes.
Composite Decking – An Affordable, Low Maintenance Option.
The composite decking industry is growing at a fast pace, with new product innovations that are making it a very attractive alternative to real wood. Improved performance, better warranties, little maintenance and a variety of fastening systems are features worth considering. Not to mention, it's a more eco-friendly alternative than real wood, and it lasts longer!
However, do your homework – there are many different manufacturers, so care should be taken when selecting composite decking for your next project. We proudly carry several quality decking brands such as MoistureShield, Trex, and TrueNorth to fit any project or budget.
Do-it-Yourself & Maintenance-Free Rail Systems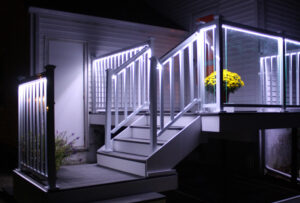 No matter what look you're after, there are some great options available in railing systems that can impact the look and function of your deck project. These new railing systems are constructed of high strength aluminum to meet or exceed building codes and feature a premium powder-coat, factory finish that's durable while reducing maintenance. Brands such as Nuvo Iron and Regal Railing provide premium quality deck railings at reasonable prices.
These railing systems are designed for quick and easy installation, making it the perfect weekend project. They also look great and are available in many colours to accentuate your house. Try Mixing Glass on one side, and aluminum spindles in the same area, creating a practical and modern look. You can also easily attach LED lights under your railings for a stylish lighting solution.
Invest in the Right Hardware
One of the best ways to keep your new deck sturdy and looking great is to invest in specialized deck hardware. From galvanized brackets and braces to specialized screws and hidden screw systems for installing decking. Manufacturers have really 'stepped up their game' when it comes to options. Many decks begin to fail as a result of weakened joints and screw heads popping up. Investing in solid hardware, like Simpson Strong-tie, helps prolong the life of your investment, especially given the snow loads we experience in Peterborough.
Don't Be Afraid of Adding a Little Colour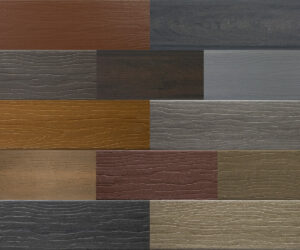 Composite decking is increasingly the building material of choice. This material now comes in a wide variety of colours and finishes. We see a lot of two-tone designs used to provide depth and style to decks and outdoor spaces. Muted blues and greys will continue to dominate decks in 2020. But that shouldn't stop you from adding other colours or shades.
Finishes with streaking and weathering are also gaining popularity. These finishes look like natural wood. Complimenting with dark railings gives a fantastic look and is also very easy to see through during day or night. Picture framing decks or adding inside squares or stripes make a large deck visually appealing and adds life to it.
Visit our Design Centre
The staff at Merrett Home Hardware Building Centre has helped thousands with their home makeover and deck building projects. Our team has the experience to answer all of your questions.
Over the years, we've worked hard to build our reputation of being the helpful 'go-to' experts for friendly, knowledgeable advice. For help with designing your new deck, choosing the right lumber or other building materials, tool rental, or even deck maintenance supplies, visit us at the Merrett Home Hardware Building Centre, located at 1460 Lansdowne St., West. Peterborough.