The winter is the perfect time to breathe new life into your bathroom. A bathroom renovation doesn't have to cost thousands of dollars or take weeks. There are a few small DIY projects you can take on yourself to revitalize your space.
Replace the Toilet
Has your toilet seen better days? Does it waste water? Is it leaking? Maybe it's just a little outdated. The good news is that replacing your toilet is one of the easiest DIY plumbing jobs you can do. 
There are a few things to consider when choosing a new toilet, including its height, size, design, and water usage. The right model for your project will vary based on the space in your bathroom, your family, and your home. Some models are better suited for small spaces while some may better accommodate seniors or those with mobility concerns. Come into Merrett Home Hardware to speak with our experts on what model of toilet is right for your family. 
And don't forget to turn off the water before you start your project. 
A New Vanity
A new vanity is a great way to revitalize your bathroom. A vanity changes the look and feel of a tired old space. It is an opportunity to update your bathroom with modern designs such as a granite top or a vessel sink. Or add more storage with new cabinets.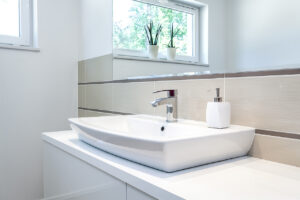 Pre-assembled vanities require very little time for installation and are less frustrating than ready to assemble cabinets that are competitively priced. When you buy a vanity kit, it will include the base as well as the countertop and sink. There may also be a separate backsplash piece. These units are relatively easy to install as a weekend DIY project. 
At Merrett Home Hardware Peterborough we stock a wide variety of prebuilt vanities to fit all spaces and aesthetics. 
Update the Fixtures
If replacing an entire vanity is too much for you, there are still options to update the look and feel of your bathroom. New fixtures can make a world of difference.
A new faucet will immediately update the look of your bathroom. This doesn't mean you have to opt for an ultra-modern design. Many manufacturers still produce elegant classical designs that uplift your bathroom design. Aside from design consider the opportunity to look at different finishes. Brushed nickel and copper are everywhere lately, especially in the most luxurious of bathrooms. This divergence from basic chrome finishes instantly gives it a leg up on the average look.
Updating any of the fixtures in your bathroom can make a big difference. Remember you can replace old worn out cabinet handles with new ones for a quick update, change the lighting to brighten the space, or simply add new mirrors.
A New Coat of Paint
You can give your bathroom a whole new style with a new coat of paint. New paint isn't just about revitalizing a faded room it is an opportunity to make a bold change to your bathroom. Perhaps a colour that complements that new vanity or something that speaks to your personality. Remember we can colour match almost anything at Merrett Home Hardware.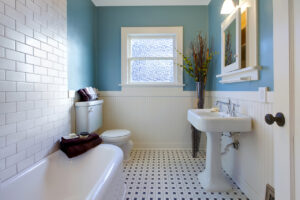 When painting a bathroom look for paint that will stand up to humidity and moisture. Our Beauti-tone Signature semi-gloss paint is a great choice because it is durable, washable and mildew-resistant. 
Remember to prep your work area before you begin by cleaning and patching your walls. You can read more about prepping your rooms before you paint in our Blog. You will want to remove any obstructions such as art, vents, toilet tanks, mirrors, or racks. If you are considering revitalizing your bathroom with a new coat of paint, use our painting calculator to help you determine how much paint you need to finish your project. 
The staff at Merrett Home Hardware Building Centre has helped thousands with their home makeover or DIY projects. Our team has the experience to answer all of your questions, from plumbing and electrical to cabinets and paint. Merrett Home Hardware Building Centre is located at 1460 Lansdowne St., West. Peterborough.