Baby, it's cold outside, …. so let's stay inside and paint!
While it's cold outside, now is a good time to freshen up and rejuvenate the inside of your home. Painting is one of the most inexpensive decorating 'bangs for your buck'. A fresh coat goes a long way to making your home appear cleaner and enlivened. Let the helpful and knowledgeable staff at Merrett Home Hardware Building Centre and Kingan Home Hardware mix you up a can or two of Beauti Tone; known for its quality and chosen by professional painters here in Peterborough.

Tip # 1 Colour
Begin by analyzing your room for paint colour ideas. The existing components in your room will help you determine what colour families would work best to achieve your desired results. For example, consider the colour of your hardwood floors, area rugs, furniture, art, accessories and window coverings.
Also, determine the mood you wish to create because colour has the potential to transform your home into an expression of you and the tone you wish to achieve.
If you are choosing a new colour consider the lighting in your room and how it changes throughout the day and the effect of artificial light at night. One approach is to buy sample-size containers to paint your Beauti Tone colour onto a large piece of poster board so that you can move it around throughout the room at various times of day or night.
Merrett Home Hardware and Kingan Home Hardware also has colour experts available to assist you with any questions you may have.
Tip # 2. Sheen
Sheen refers to the amount of light that paint reflects.
Flat/Matte is a rich non-reflective surface. It helps hide wall imperfections. It works for low-traffic areas and ceilings because it is more difficult to wipe clean.
Satin/Eggshell is a low sheen finish. It is a more washable surface than a flat finish. It is often used in a living room, dining room, bedroom, powder room and family room.
Velvet/Suede conveys the appearance of warmth and depth. It is a good choice for most areas of the home and can be scrubbed.
Semi-Gloss/Pearl paints are tougher and have a medium shine. They can withstand a fair amount of cleaning and are good for children's rooms, kitchens, bathrooms, trim, doors and furniture. If there are imperfections on your walls they will become more noticeable with this sheen.
Gloss paints are shiny. They reflect a lot of light and are the toughest, more durable and stain-resistant. They have a high sheen and are very easy to clean, but highlight imperfections.
Think about the final look you are after and then balance that with the performance needed.
Tip # 3 Preparation
Prepare for success to avoid delays or potential damage.
Assemble the correct materials and tools needed to fix small holes or cracks in your walls which includes filler, putty knife and sandpaper
Assemble the correct tools before you begin painting, which includes tape, drop cloths, rags, brushes and the right rollers
Tip # 4 Clean
Thoroughly clean the surface you wish to paint before you begin. Using a product like TSP will take any oils or residue off the wall in order for the paint to grab onto the wall better.
Tip # 5 Tape
When using tape, paint evenly and carefully along the tape line. Many different tape widths are available. If you apply too much paint along your tape line it builds up and creates a bridge which can cause an uneven line when you remove the tape. Always remove the tape before the paint completely dries to avoid peeling off some of the paint with the tape.
Tip # 6. Quality tools
Invest in good-quality paintbrushes and rollers for the best outcome. Home Hardware recommends synthetic brushes and/or lint-free rollers. Angled brushes have become very popular for edge work. Using poor quality tools, makes your project more difficult and creates the potential for an uneven paint job.
Tip # 7. How much paint is needed
Make sure you have enough paint. If you only paint one coat or do not use enough paint on a surface area you will end up with a streaky, blotchy or uneven finish. Two light coats are much better than one thick coat of paint.
The general rule for determining the quantity of paint needed is that 4 litres of Beauti Tone paint covers up to 40 sq. metres (400 sq. feet). You may visit homehardware.ca and use the painting calculator to assist you or, take your wall dimensions to Merrett's or Kingan Home Hardware. Their knowledgeable staff will recommend the correct quantity needed for your painting project.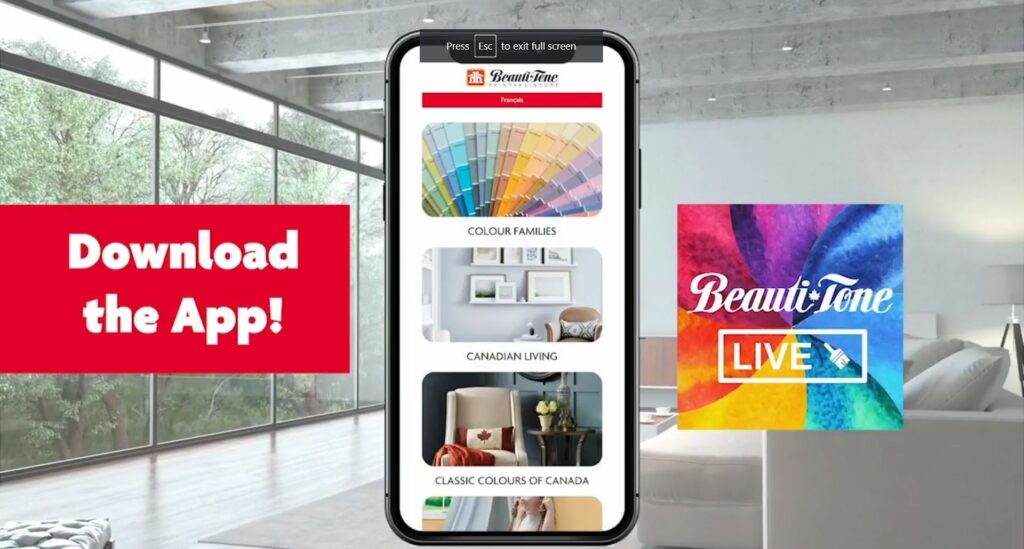 Tip # 8. Clean up and storage
It is always wise to invest in good quality painting tools, but only if you can use them for more than just one project. Clean your tools thoroughly with warm soapy water after each use. If you have to stop briefly in the middle of a project, wrap them in clear plastic wrap so that the paint is not exposed to the air.
Once the paint has been opened it typically has a shelf life of about 2 years. If you store it in a cool and dry place, away from direct sunlight with the lid completely sealed it may last even longer.
If you are in the mood for a newly painted room this winter, Merrett Home Hardware Building Centre and Kingan Home Hardware in Peterborough are here to help. Visit our in-store paint experts. Their friendly and knowledgeable stall will help to guide you to the correct decisions while supplying you with all your painting supplies and needs.