The cold weather may keep you inside, but it doesn't have to slow you down when it comes to DIY home improvement projects. Why not take on some small upgrades to your space and improve the quality of your indoor living.
Do-it-yourself projects provide a sense of accomplishment, and you may just end up with some new skill sets too. So why not choose a couple this winter and enjoy the results for the rest of the year. Let the friendly and knowledgeable staff at Merrett Building Centre/Home Hardware in Peterborough assist you with the tools and materials you need to get started.
Here are 5 Popular Cold-Weather DIY Projects to Take on this Winter
Organize Your Closet
While it's cold outside, stay inside and get your closet organized once and for all. The options are plentiful. Merrett Building Centre offers you a variety of closet shelving including freestanding shelving units; laminated wood shelving and maple wood shelving. Our staff are happy to advise your planning and installation.
Alternately, you can design and build your own low-cost custom closet complete with shelving, drawers and adjustable closet rods. Why not check out our 'Kitchen and Closet Organizer section on our website for ideas. Whether you order from us online or come into our store, we're happy to help so that you will enjoy a well-functioning closet system for the rest of the year!
Makeover your Mudroom
Take the 'messy' out of your mudroom. There are many ways to organize your mudroom or entrance area. Why not build cubbies, shelves and coat racks to keep snowy boots and all those jackets, scarves, mitts and bags in order? We've got all of the building supplies you'll need – from lumber and plywood to brackets, screws and glue and we rent hand tools to make your project turn out great! Wayne, Joe or Tom will be on hand to advise you on any tool you may need to rent.
Update Your Bathroom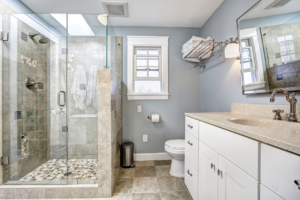 Whether you dream of a complete bathroom renovation or just a new vanity, there are plenty of DIY bathroom updates you can tackle during these cold winter months. Installing a new sink, or vanity, tiling a backsplash, retiling the shower, updating your toilet to a high-efficiency comfort height model, or even just replacing the faucet will bring new life to your bathroom.
We can supply and advise you on these products and many more. Come on in and speak with our bathroom renovation specialists – we're here to help!
Declutter and Reorganize
There are probably many rooms in the house that could use a little decluttering and reorganizing. Try organizing your craft room, playroom or workshop. Once you have decided what has to go, try adding some additional shelving and other storage solutions to keep needed items in their place. We have pine boards for shelves or pre-made melamine shelving material that can be cut to size. Don't forget the hardware including; brackets; hooks; hangers; screws, and drywall anchors.
We also carry an assortment of storage bins of different shapes and sizes as well as heavy-duty storage and organizers for your garage and basement. Do it while it's cold outside and you will have the rest of the year to enjoy the improvements and increased functionality of your home!
Paint it Pretty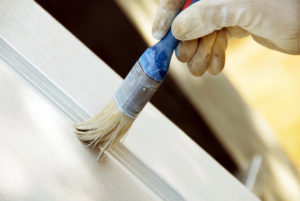 There is no doubt that painting provides one of the biggest impacts for the money on the look and feel of your home. It instantly freshens and updates a room. Check out some of our past articles on painting – it's a project that most homeowners can undertake.
Merrett Home Hardware Building Centre provides paint specialists available to assist you with any questions you may have. Our Beauti-Tone line of paints is known for its quality and is chosen by professional painters here in Peterborough.
Regardless of the DIY project, you take on this winter, Merrett Home Hardware Building Centre in Peterborough is here to help you make it a success.
Merrett Home Hardware Building Centre
1460 Landsdowne St. West
Peterborough Ontario
K9J 2A2
705-743-3553