Building a new cottage is a daunting task. There are many components from local building codes to what designs will work on your property, and it can quickly become overwhelming.
That is why Home Hardware offers our Beaver Homes & Cottages program. We eliminate all that stress by connecting you with a home building expert who will help you navigate the process and help make your dream a reality. Here at Merrett Home Hardware, our in-building consultant, Ian Nichols, is ready to guide you throughout the process. Ian's ready to help you choose the best model for your lifestyle, lot and budget, while ensuring your building supplies are there when your contractors need them.
The Design Process
The first step to your dream cottage or lakeside home is a free consultation with Ian. He will help you review the dozens of cottage designs, including Hybrid Timber Frame models and others.
There are many factors to consider when choosing your model, and Ian will help you identify what designs will fit your lifestyle best. Once you have selected the right design, then it's time to make it your own. Update the kitchen island? Remove a wall? What kind of flooring would you like? You can find a comprehensive list of questions in the Drawing Conclusionsbooklet which Ian will provide. Ian can give insight into the costs of these decisions, enabling you to arrive at a price for your new dream cottage ultimately!
Once approved, our experts will draft your architectural drawings. Then it's time to build!
Our Guarantee – Design, Price, Quantity and Quality
The beauty of Beaver Homes & Cottages is our exclusive guarantee. Once you have designed the perfect cottage, your package price is guaranteed, and so are our materials. Our exclusive Beaver Homes & Cottages Material Package Guarantee includes four cornerstones of service: design, price, quantity, and quality.
You will get the building materials you need at the price quoted, and there won't be any nasty budgeting surprises.
Inspiration
There are dozens of designs to get you started. For example, a customer favourite is the Taylor Creek model. A stunning Hybrid Timber model features a stunning prow with towing windows that let you take full advantage of your lakeside views. The 1700 sq ft model has three bedrooms and two bathrooms, perfect for the family.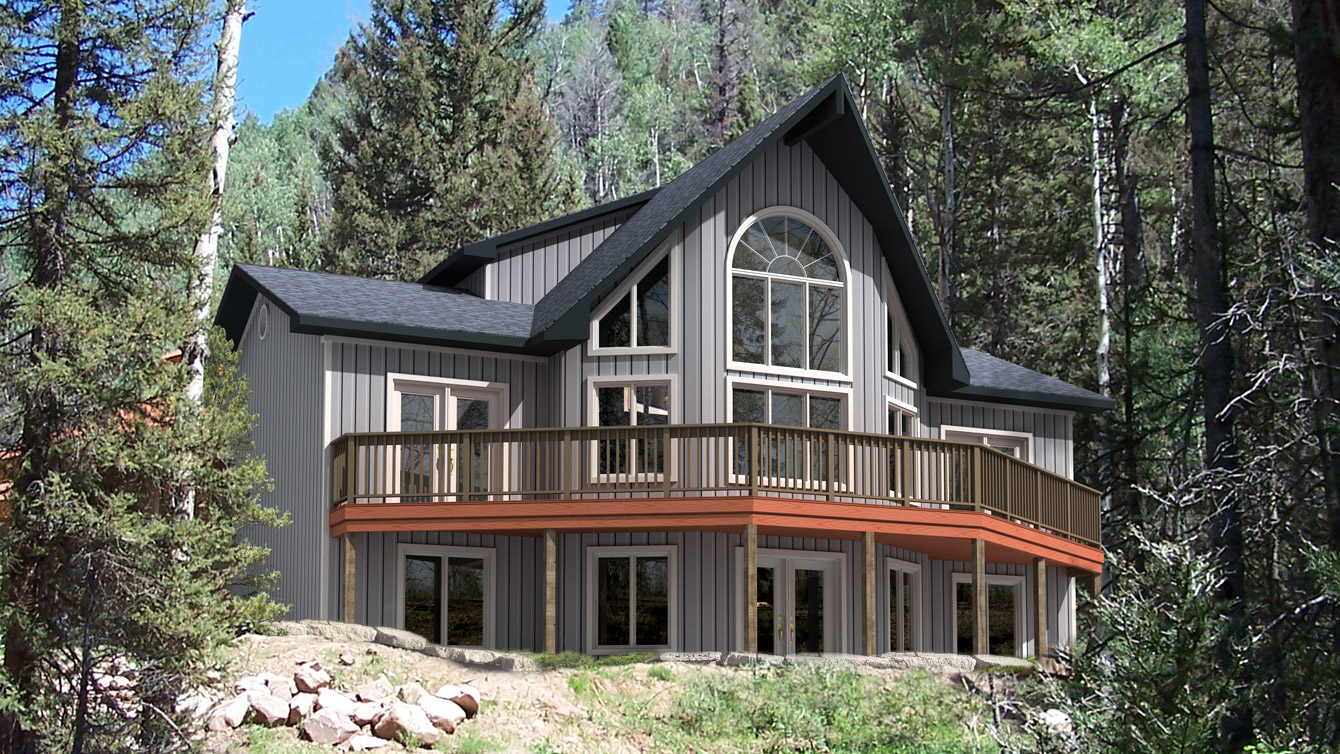 We have designed The Taylor Creek II with a great room that divides this home into three areas. The left side is devoted to the kitchen and dining area. The right side is for two large spare bedrooms. The main floor includes a laundry closet at the foyer and the main bathroom with a linen closet. 
Upstairs you'll find a separate oasis. This level is dedicated to the master bedroom and provides lots of storage and a private ensuite. The open stairs and tall windows allow you to enjoy the view even upstairs.
The Taylor Creek is just one of the dozens of models, each with unique features. Our base packages include lumber for structure, wall insulation, siding, roofing materials, windows, doors, hardware and more.
Book Your Free Consultation Today 
For Beaver Homes and Cottages, contact Ian to book your free consultation. From a cozy cabin to a castle of your own, we will help you with design, product choices, financing options, planning and scheduling. And the materials package for your build will be backed by our Beaver Homes or Cottages Material Package Guarantee.
Merrett Home Hardware Building Centre is here to help you with your projects, big or small. Our helpful staff love assisting clients with their projects – big or small. Bring your questions to us! Whatever you are looking for, from tools and equipment to the building of your dream home. Our store has a vast selection of home and kitchen products, paints, lumber, tools, hardware and more!
Merrett Home Hardware Building Centre, located at 1460 Lansdowne St., West. Peterborough.