With COVID-19 closures fuelling the trend of working from home, more and more homeowners in Peterborough are adding Home Office Work Areas. While 'make-shift' setups may have sufficed in the past, we're seeing more and more people look to replace 'dining room clutter' with a dedicated home office space. An inspiring Home Office can make the time at work much more enjoyable and creative. You'll be more efficient and accomplish more, providing for more 'playtime'. There are lots of options available, so we thought we'd discuss the process and provide some helpful home office set up tips.
The first consideration is whether you are going to convert an existing space (typically a spare bedroom) or whether you're creating new space (basement renovation?). We'll discuss a full renovation first as there are options available which are not as easily included when converting existing space.
Building New Space for Your Office.
While this can be a topic of its own, a few ideas to consider include:
Location –  If your new home office is going to be permanent you may need to consider creating a private space for it. There are many things to consider: Do you require separate access for possible visitors or clients? Do you have washroom facilities nearby?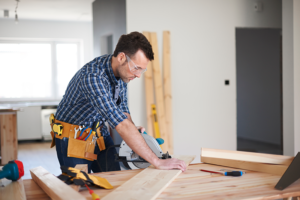 Is there an option for natural light? How the area ducted for heat and AC? Is there power and internet available? How do these elements affect the efficiency of your home office? Consult professionals such as plumbers, HVAC specialists, & electricians for any major renovation of your home's structure.
Layout – Hiring a licensed electrician to add power to the area is important, but before they can begin, you'll need to decide on the layout of the space. Deciding where your desk or printer will be located can make a huge difference in reducing cable clutter. Consider vertical space and wall shelves to further reduce clutter and maximize space efficiency.
During construction, consider the impact of wall insulation as often builders install the bare minimum for code. Some extra investment in time and insulation can go a long way in adding comfort while saving on heating costs. And there are methods of installing drywall on the ceilings and walls that can reduce sound transmission. Talking to our experienced staff can really help you understand your options.
Another good topic for discussion is flooring. There are products designed for below-grade installation, some of which can even work in unison with heated floors.
Renovating Existing Space into a Home Office
Without focusing on the major construction details, an easy conversion is to utilize a spare bedroom for your new office. By updating colour, flooring and lighting, you can create an area that inspires while enabling you to 'get down to business'.
Practical Considerations. It's often best to create a list of the components you'll require in your home office. They include adequate desk and storage space, power, internet and lighting needs. Again, consider the use of vertical storage for items such as printers, supplies and reference items. The goal is to have the items you need easily accessible without creating clutter.
Ergonomic Requirements
Your Home Office design can have a big impact on your health and well-being. Kitchen table and chair heights are rarely the proper ergonomic setup, now is the time to research what's best for you. Typically, work height is approximately 29" but depending upon your own height, this is often adjusted via adjustable legs. The goal is to have your arms and wrists in a straight line, parallel to the ground.
Bending your wrists for extended periods of time can spell trouble. Since keyboards add height, many desks use under surface keyboard trays to accommodate for height. Your chair is also a vital element in this equation and a good office chair is worth the investment compared to suffering chronic back and neck pain. Most offer adjustable support and armrests to allow you to fine-tune set up.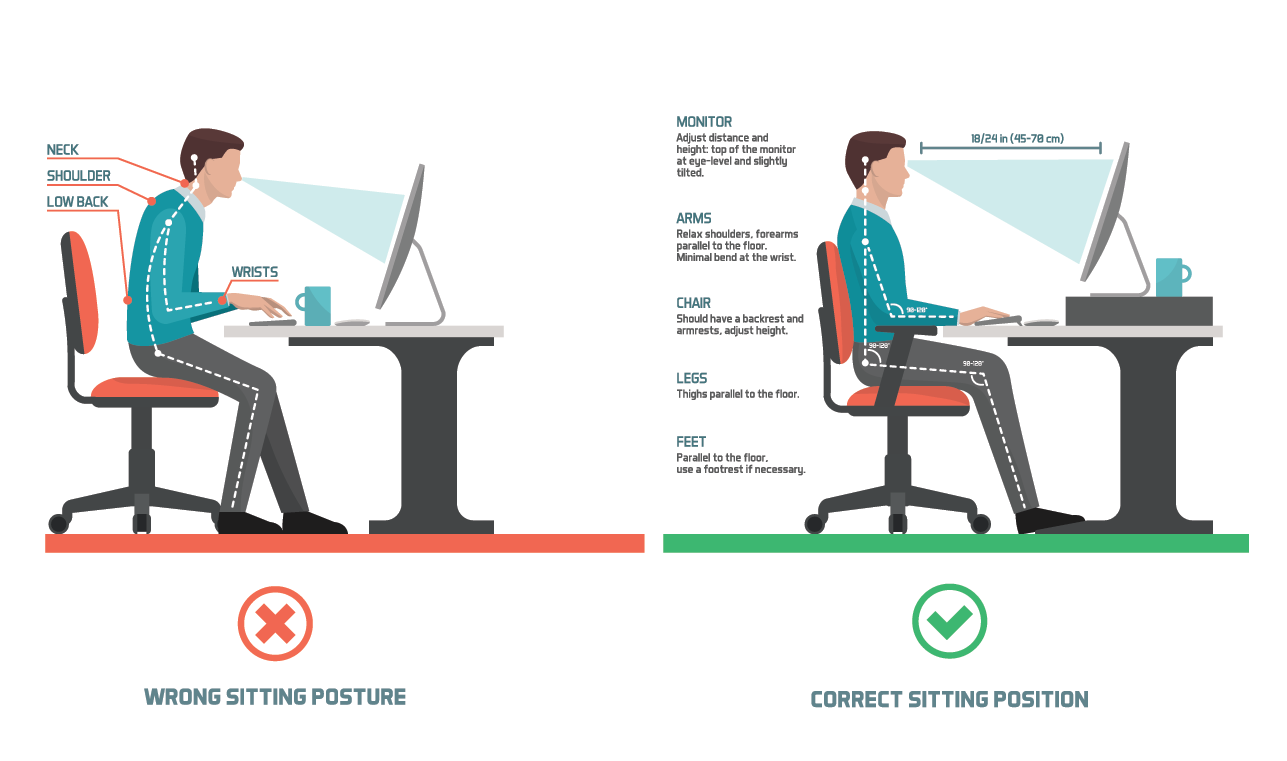 Many people consider adding an extra computer monitor or two. Depending on the monitor, it may need to be raised to meet the most ergonomic height. Your eye height should be level with the top 30% of the screen when looking straight ahead. At Merrett Home Hardware, we can assist with options for hiding those messy monitor wires as well as protecting against electrical power surges.
Comfort and Inspiration
You'll be amazed at how some new flooring and paint can make a huge difference in reducing stress and anxiety. Consider perhaps a feature wall painted in a bold colour. Studies have proven blues help reduce anxiety, inspire calm and logical thinking while neutral colours are soothing.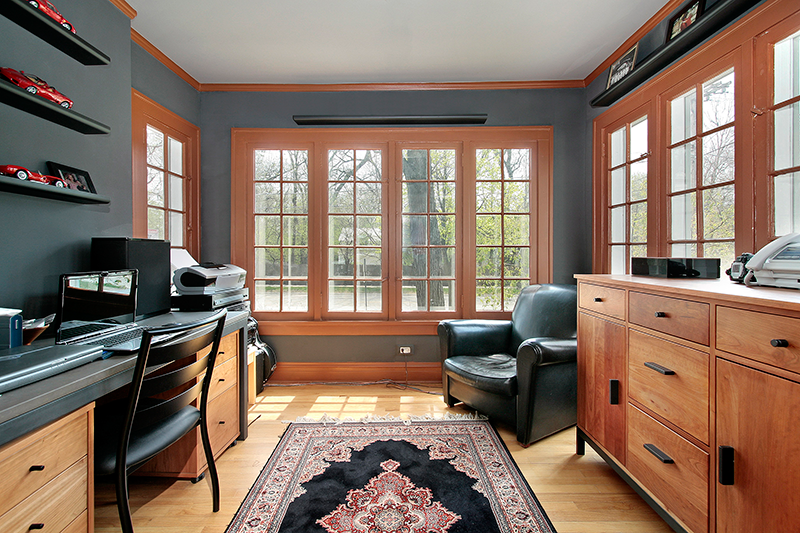 Hey – why not consider a feature wall with shiplap pine or cultured stone. These elements on a small wall are not expensive and are well within reach of a weekend Do-it-yourself project. Our staff can help you with all the materials and know-how. Add some organic elements such as plants and you'll suddenly have an inviting space that you'll look forward to working in.
Lighting
There are many lighting options available, but the key is to consider indirect lighting to reduce monitor glare. This is usually best accomplished by a combination of overhead and natural light. At Merrett Home Hardware Building Centre, we sell different styles of lights that are affordable, stylish and functional. Don't forget to add a dimmer switch for better lighting control.
---
Investing in an inviting, stylish Home Office is a great way to help survive these trying times while increasing your homes resale value. As more people leave the GTA to move to Peterborough, home offices are becoming more and more important. At Merrett Home Hardware Building Centre, we've been helping Peterborough Homeowners for years with all their building and renovation projects. Come shop where the builder's shop and receive small-town friendly, knowledgeable service in our new and expanded store on Lansdowne Street West.