You'd think choosing the right type of lumber for your project would be simple. It's just buying a piece of wood, right? But there are so many choices and home improvement stores in Peterborough, it's become surprisingly complex, even with a supply list in hand. And this year's extremely damp conditions has added another piece to the puzzle as the lumber supply in Peterborough is considerably more moist than usual.
The experts at Merrett Home Hardware are here to make it easy for you to choose the best lumber for your project.
How to identify common lumber defects:
Lumber can have defects for a variety of different reasons – it's graded accordingly and most stores in town sell utility grade which means you need to sort through it extensively to eliminate splits, wane and defects. This costs you valuable time and money. A few common defects and things to keep an eye out for include:
Split: A crack that is commonly found at the ends and goes right through the wood. As moisture gets in the wood when it leaves it can leave the split small, and in the winter- ice continually freezes then thaws. A split can grow into a big problem over time.
Wane: Untrimmed bark or wood that is missing along the edge or corner. Wane is becoming more common if the product is not a stamped premium product
Bow: When the board is warped from end to end. In Canada known as a hockey stick.
Crown: When the board is warped along it's edge. This defect is commonly in wood cut from the center of a tree.
Twist: When the ends of a board twist in opposite directions. Also known as corkscrew.
Moisture Content: With this year's higher than average rainfall, the lumber supply in Peterborough is considerably more damp than usual. As a piece of lumber dries, it shrinks, so you can imagine how this has affected builders and DIY renovators in Peterborough. When building a deck for instance – instead of spacing the boards,, with the lumber being expanded when it is moist, nail decking close together and they will shrink  over time as the wood dries giving you the gap size you are looking for.
At Merrett Home Hardware we supply nothing but premium grade lumber with less wane, splits, twists, and defects, which takes the guess work out of choosing the best lumber. It's a major difference in our store. Contractors and professionals often speak to the quality of our wood exceeding our competitors, and how that produces a better finished product while saving them valuable time and money.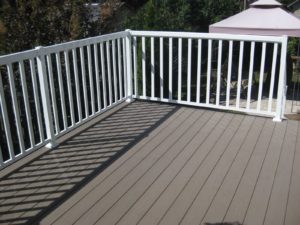 An interesting note is the growth in popularity of composite decking. It's designed to last a lifetime and won't shrink, rot, or twist. Its a maintenance free product that does not require staining every few years. It's also the perfect choice for cottages including decks and docks. While it costs more, it's advantages are considerable, especially if you are planning on staying in your home or cottage for years ahead.
For more information on composite decking view our blog post on selecting the right dock and deck materials in Peterborough.
While the effects of using lumber with defects won't be as noticeable overnight, chances are that in a year's time you'll be questioning why you didn't go with premium grade lumber or composite decking.
At Merrett Home Hardware we supply premium grade lumber that's been sorted and carefully inspected before it even enters our store. You can expect boards that will last longer, deliver a better finished product, and are up to premium standards on all four sides.
Do your project right the first time and give us a visit at 1460 Lansdowne Street West in Peterborough!