The combination of a harsh winter and a higher than average rainfall has taken a toll on decks & docks in the Peterborough area. Now that summer seems to finally be here (knock on wood), it's the perfect time to consider refreshing your deck with new stain. At Merrett Home Hardware, we have a wide selection of stains available; water-based, oil-based, semi-transparent, and stunning solid colours. As with any DIY project, our staff are happy to walk you through the process so you get the best results.
Learn how to test the wood, clean/prep your deck, and apply a beautiful stain to bring your deck back to life.
Test & Inspect the Wood
When was the deck built? Is it looking gray and dull? A water test is the easiest way to help you determine if you should stain your deck. Sprinkle water on the wood – if it beads up or stands on the wood, the water repellency of the sealer is still working. If it soaks in immediately, you should stain your deck to give it a fresh look before it gets water-damaged or starts to rot.
How to Prep & Clean Your Deck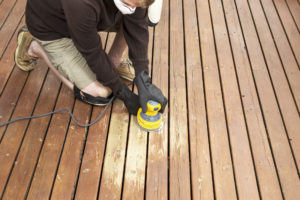 Lack of preparation is the number one reason stain and sealers don't absorb properly. The deck must be clean of dead wood fibers that sit on top of the wood. We carry a number of chemical and natural products that make it easy to clean your deck before you stain.
Sand any splintered areas with 80-100 grit paper and hammer down or replace nails that have popped out. Then sweep any loose debris.
Depending on the type of cleaner, use a normal paint roller, garden sprayer, or a stiff-bristled broom to apply it to the deck. Make sure to spread the cleaner evenly so it doesn't puddle up.
After allowing the cleaner to soak in for 10-20 minutes, rinse the deck thoroughly with a garden hose. Your deck should be dry for at least 24 hours before you stain, otherwise the water will push out the stain when it tries to dry.
Choosing the Right Stain or Sealer
If the natural colour of the wood hasn't faded, you can apply a clear sealer to prolong it's warm, natural look. Semi-transparent coloured stains will blend in new colour tones, while keeping the unique patterns of the wood visible. For a complete refresh, choose a solid colour stain.
How to Apply The Stain
Check the weather forecast and stain during at 2-3 days of dry weather. Don't apply the stain in direct sunlight – it'll dry way too quickly and won't absorb properly into the wood.
Don't take advice from James Bond – its stirred, not shaken! Bubbles will form if you shake the can too much. Stir it instead.
Use a paint roller to apply the stain in thin even coats and achieve a consistent look. Puddles of stain will become your worst enemy. Make sure to back-roll, spreading puddles, and working the finish into the wood.
Use a paintbrush to apply the stain evenly in corners, stairs, railings, and cracks.
Allow the deck to dry completely and make sure everyone knows not to walk on the deck for the rest of the day!