Our new renovation is almost complete – we're excited about providing you with an even greater inventory selection. The last few months have been a challenging period. We appreciate the loyalty and patience shown by our contractors and customers. On behalf of all the staff at Merrett Home Hardware Building Centre, a big THANK YOU!
Our team is here to help you with all of your fall projects and they have one important question for you: Is your home ready for winter?
COVID-19 has lead to many of us spending more time at home. If you are working from home or simply at home more you may find that as the weather gets cooler your home does too. Weatherproofing your home is an easy and affordable way to enhance your comfort.
Weatherproofing your home isn't just about comfort; it can also save you money. Winterizing your home can improve its energy efficiency, meaning your furnace won't have to work as hard this winter. That doesn't mean you have to undertake large projects like replacing your windows; there are many DIY projects you can take on this fall to help prepare your home for winter.
Interior Weatherproofing Tips
Check your windows to make sure they are ready for the cold season.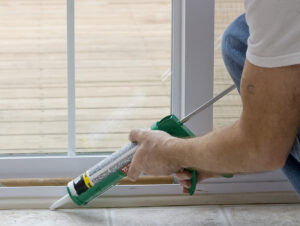 Cracks in window sills or worn caulking can cause drafts. Not only will this make parts of your home uncomfortable during the winter, but it can drive up your heating bill. Clean and apply a new layer of caulking to your windows to save you money and cold feet this winter.
Installing insulation in your attic can improve your home's energy efficiency.
It will keep your home warmer in the winter and cooler in the summer. You will want to seal gaps that allow unconditioned air into the space you are insulating, such as the entry into your attic or any place ductwork or wiring pass-through. You can either use Batt and roll insulation, which work well between joists and wall cavities or loose-fill insulation, which is ideal for tight spaces because it can be blown into place. If you choose loose-fill insulation, speak to one of our rental experts about the appropriate equipment.
Perform some furnace maintenance before winter arrives.
It is a good idea to change your furnace filter. Your filter's lifespan depends on the type of filter you have, how often you leave windows and doors open during the warm months, and even your pets. Generally, changing your filter every three months is a good rule of thumb. Depending on your furnace's age and when you last had it inspected, you may want to have your local HVAC professional inspect your unit. The last thing anyone wants is unexpected failures in the middle of winter.
Exterior Weatherproofing Tips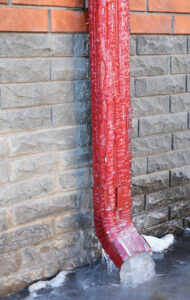 Seal Leaky Gutters
Use waterproof silicone caulking to seal the leaking seams in your gutters. This will help avoid ice buildup on the side of your house or the pathways below.
Check Your Downspouts
Ensure your downspouts are correctly attached and directing any water away from your home's foundation.
Perform a Perimeter Check of Your Home
Look for cracks or gaps that may be appealing to pests looking for a place to stay in winter. Seal any opening to reduce the risk of a winter pest problem.
Think About Winter Safety Now
Make sure walkways and railings are even and secure for winter safety. This will help reduce the risk of falls in winter and make winter chores like clearing snow easier.
Shut Off Exterior Faucets & Put Your Hoses Away.
This will protect them from freezing when the temperatures dip below freezing.
You'll find everything you need to get your home ready for winter here at Merrett Home Hardware. From caulking and insulation to ladder rentals.
Merrett Home Hardware Building Centre is here to help you with your projects, big or small. Whatever you are looking for, from tools and equipment to the building of your dream home. Our store has a vast selection of weatherproofing supplies, paint, lumber, tools, hardware, and more. Our helpful staff love assisting clients with their projects – big or small. Bring your questions to us!
Merrett Home Hardware Building Centre, located at 1460 Lansdowne St., West. Peterborough.